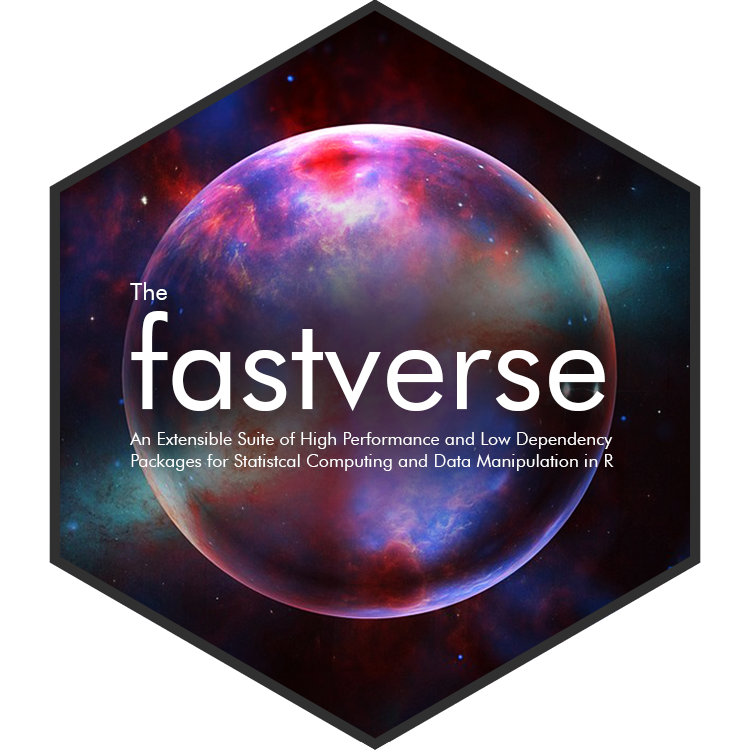 fastverse
The fastverse is a suite of complementary high-performance packages for statistical computing and data manipulation in R. Developed independently by various people, fastverse packages jointly contribute to the objectives of:
Speeding up R through heavy use of compiled code (C, C++, Fortran)
Enabling more complex statistical and data manipulation operations in R
Reducing the number of dependencies required for advanced computing in R
The fastverse package is a meta-package providing utilities for easy installation, loading and management of these packages. It is an extensible framework that allows users to (permanently) add or remove packages to create a 'verse' of packages suiting their general needs, or even create separate 'verses' of their own.
fastverse packages are jointly attached with library(fastverse), and several functions starting with fastverse_ help manage dependencies, detect namespace conflicts, add/remove packages from the fastverse and update packages. The vignette provides a concise overview of the package.
Core Packages
The fastverse installs with 4 core packages1 (5 dependencies in total) which provide broad C/C++ based statistical and data manipulation functionality and have carefully managed APIs.
Installation



# Install the CRAN version


install.packages

(

"fastverse"

)





# Install (Windows/Mac binaries) from R-universe


install.packages

(

"fastverse"

, repos 

=

 

"https://fastverse.r-universe.dev"

)





# Install from GitHub (requires compilation)




remotes

::

install_github

(

"fastverse/fastverse"

)
Note that the GitHub/r-universe version is not a development version, development takes place in the 'development' branch.
Extending the fastverse
Users can, via the fastverse_entend() function, freely attach extension packages. Setting permanent = TRUE adds these packages to the core fastverse. Another option is adding a .fastverse config file with packages to the project directory. Separate verses can be created with fastverse_child(). See the vignette for details.